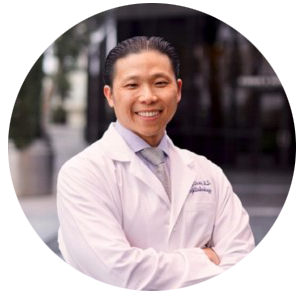 Fred Chien, MD
Premium Cataract Surgeon, 
Fellowship-Trained Medical Retinal Specialist
Specialties: Retina, Cataract, Cornea and Glaucoma
Practice Locations: North Miami Beach, FL
Physician Bio

:
Dr. Chien is a medical retina specialist and cataract surgeon who has performed over 5,000 cataract surgeries in the last 10 years. His publication and work with Plaquenil retinopathy during this time lead to an improved Plaquenil screening program and has helped save the sight of numerous patients who were previously undetected.
He specializes in the non-surgical treatment of diabetic retina disease, wet and dry macular degeneration, vein occlusions, and other retina disorders. He also specializes in micro-incisional cataract surgery and premium lens implants such as multifocal lenses, astigmatism correcting lenses and the use of the femto-second laser assisted surgery.
What do you enjoy most about being an eye doctor/surgeon?

The results are usually excellent, measureable and immediate. Patient satisfaction is generally very high.

If you were not in medicine, what career would you pursue?

I would be a chef!

Do you have any pets?

Yes, a Samoyed

How do you spend your time away from the office?

I love to travel and spend time with my sons and my family.
Fellowship: Retina – Bascom Palmer Eye Institute, Miami, FL
Residency: Stanford University, CA
Doctor of Medicine: Mount Sinai Medical Center, NY
Board Certification: American Academy of Ophthalmology
Undergraduate:Johns Hopkins University, Baltimore, MD – Biophysics
Organizations:
American Academy of Ophthalmology
Publications: 
Nature Neuroscience
Neuron
Archives of Ophthalmology
Retina
JAMA Ophthalmology